Already thousands of years these repetition schemes are applied in decorative art. Yet it was not until the 19th century, with the rise of crystallography, that a scientific classification and description (Federov) of the seventeen toke place. Each of the seventeen arrangements is composed in a specific way out of one or more of four types of 'spatial transformation': shift, rotation, reflection and slide-reflection. These transformations can be conceived as 'symmetrical operators' which are 'active' in de plane in the plane. The seventeen can be classified in terms of the occurence of (combinations of) these four operators.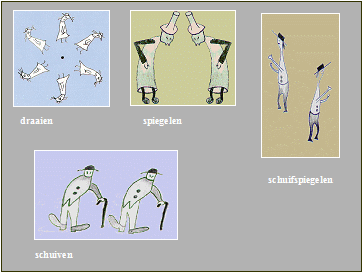 Figure 2: Spatial transformations



The most simple type is that in which occur shifts only. The regular repetition of the shift in two directions results in a 'stacking' of parallellograms, each of which can be seen as the "repeat-unit" containing all the information about the pattern (motif).